About the Civic Orchestra of Chicago
The Civic Orchestra of Chicago trains young professional musicians for careers in symphony orchestras. Under the guidance of Principal Conductor Ken-David Masur, a faculty of coaches from the Chicago Symphony Orchestra and numerous luminary guest conductors including CSO Music Director Emeritus for Life Riccardo Muti, Civic Members refine their skills and gain experience through monthly rehearsals, coachings, performances and workshops.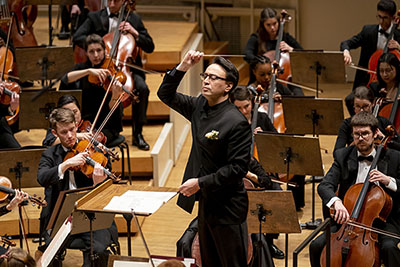 The Civic Orchestra rehearses and performs at historic Symphony Center in downtown Chicago. The mainstage concert series consists of approximately seven free performances in Orchestra Hall, as well as two or three performances in neighborhood venues including the South Shore Cultural Center and Chicago Public Schools. In addition, Civic Members may audition for the Chamber Music Program, and the Civic Mentors Program, which includes coaching of youth in Chicago area school bands and orchestras.

In general, each month of the season includes a concert cycle that's comprised of approximately five rehearsals and a performance at Symphony Center or a neighborhood venue. As part of each cycle there are sectionals with CSO Coaches. Most rehearsals take place in the evening from 7-10pm on weekdays and during the day on weekends, and the majority of concerts occur on Monday's at 8pm.
Periodically throughout the season Members also participate in workshops with guest clinicians, master classes, and select education and community engagement programming of the Negaunee Music Institute. Each Member is required to play a placement audition at the start of and midway through the season.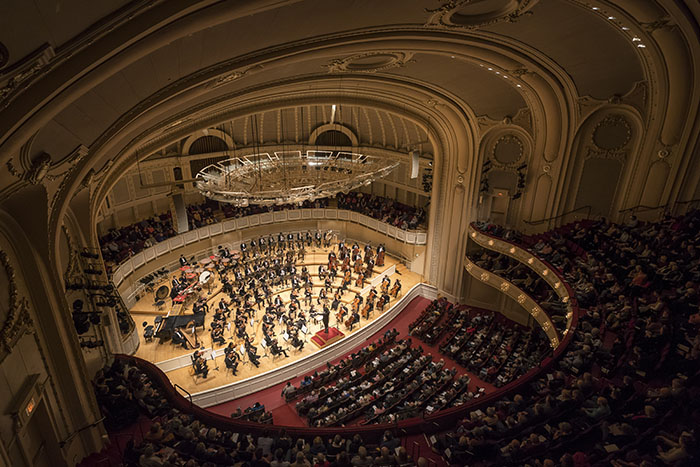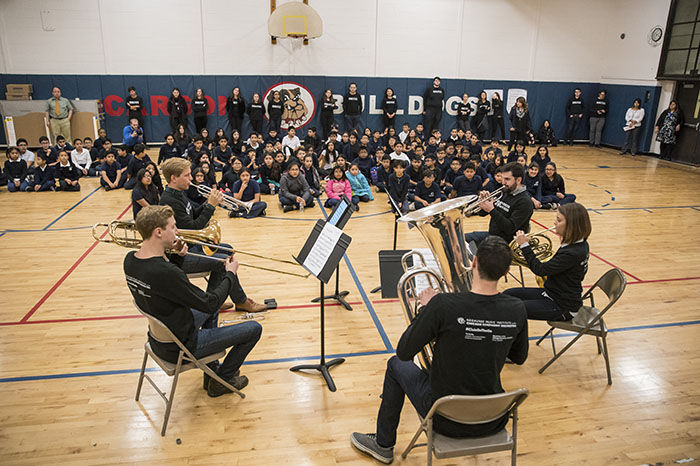 Civic Orchestra 2023/24 Season Roster
CSO Coaches
Civic Members are taught by musicians of the Chicago Symphony Orchestra through sectionals, studio classes, master classes and mock auditions. Members also receive complimentary tickets to most CSO concerts, and have the option of taking a private lesson with a CSO musician.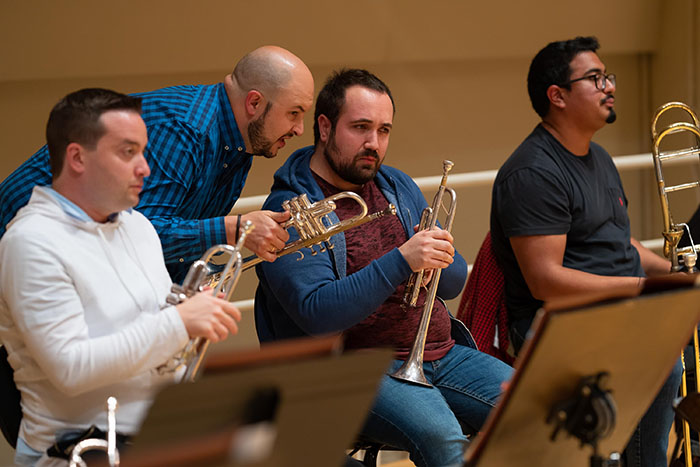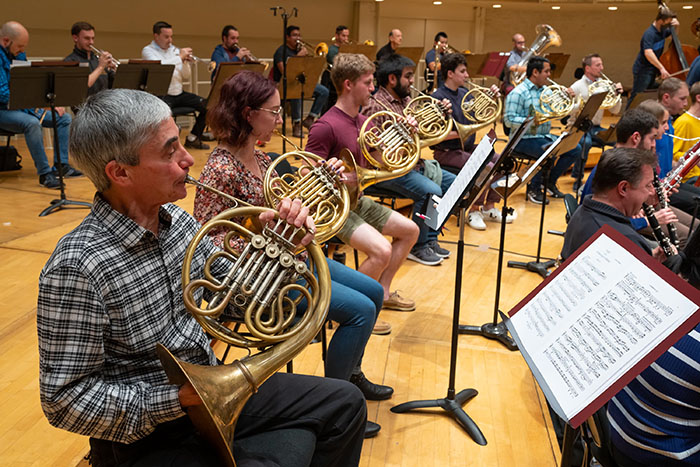 Current Civic Orchestra Coaches
Robert Chen, Concertmaster
Baird Dodge, Principal Second Violin
Li-Kuo Chang, Assistant Principal Viola
John Sharp, Principal Cello
Brant Taylor, Cello
Richard Hirschl, Cello
Daniel Katz, Cello
Alexander Hanna, Principal Bass
Stefán Ragnar Höskuldsson, Principal Flute
Jennifer Gunn, Flute/Piccolo
Emma Gerstein, Flute
William Welter, Principal Oboe
Scott Hostetler, Oboe/English Horn
Stephen Williamson, Principal Clarinet
Keith Buncke, Principal Bassoon
William Buchman, Assistant Principal Bassoon
David Cooper, Principal Horn
Daniel Gingrich, Associate Principal Horn
Esteban Batallán, Principal Trumpet
Mark Ridenour, Associate Principal Trumpet
Michael Mulcahy, Trombone
Charles Vernon, Bass Trombone
Gene Pokorny, Principal Tuba
David Herbert, Principal Timpani
Vadim Karpinos, Assistant Principal Timpani
Cynthia Yeh, Principal Percussion
Sarah Bullen, Former Principal Harp
Mary Sauer, Former Principal Keyboard
Peter Conover, Principal Librarian
History
The Civic Orchestra was founded in 1919 by Frederick Stock, the CSO's second music director, both as a training ensemble and also as a means, in his words, to "Americanize" this country's orchestras and reduce their dependence on European musicians. In the 1970s and '80s, it was more a community youth orchestra, but Daniel Barenboim, the CSO's music director in 1991-2006, strived to raise the Civic's profile and return it to being a top-level professional ensemble. 
From 2010 to 2019, Yo-Yo Ma was a leading mentor to Civic musicians and staff in his role as CSO Judson and Joyce Green Creative Consultant, and the programs and initiatives he established are integral to the Civic Orchestra curriculum today. Civic Orchestra musicians develop as exceptional orchestral players and engaged artists, cultivating their ability to succeed in the rapidly evolving world of music in the twenty-first century.
The importance of the Civic Orchestra's role in Greater Chicago is underscored by its commitment to present concerts of the highest quality at no charge to the public. In addition to the critically acclaimed live concerts at Symphony Center, Civic Orchestra performances can be heard locally on WFMT (98.7 FM).
Civic musicians also expand their creative, professional, and artistic boundaries and reach diverse audiences through educational performances at Chicago Public Schools and a series of chamber concerts at various locations throughout the city including Chicago Park District field houses and the National Museum of Mexican Art.
To further expand its musician training, the Civic Orchestra launched the Civic Fellowship program in the 2013–14 season. Each year ten to fifteen Civic members are designated as Civic Fellows and participate in intensive leadership training that is designed to build and diversify their creative and professional skills.
The Civic Orchestra's long history of presenting full orchestra performances free to the public includes annual concerts at the South Shore Cultural Center (in partnership with the South Shore Advisory Council) as well as numerous Chicago Public Schools. The Civic Orchestra is a signature program of the Negaunee Music Institute at the Chicago Symphony Orchestra, which offers a wide range of education and community programs that engage more than 200,000 people of diverse ages, incomes, and backgrounds each year, in Chicago and around the world.