What Inspires the Creation of a Great Piece of Music?
Journey into the heart of the music with Beyond the Score®. Live actors, musical examples, and breathtaking projections set the basis for this comprehensive multimedia experience that brings the listener through a lively historic context, revealing illuminating stories, intriguing perspectives and thoughtful insights within a musical score.
For classical-music newcomers as well as longtime aficionados, each Beyond the Score® presentation is a dramatic exploration of a composer's music. Through the use of live actors, stunning visual projections and virtuosic fragments of music,, the compelling story of the composer's life and art unfolds, illuminating the world that shaped the music's creation. Under the leadership of the series' creative director Gerard McBurney, each presentation weaves together theater, music and design to draw audiences into the music and subsequently into a work's spirit.
Beyond the Score® was quickly recognized by orchestras in the United States and abroad; and is available to license in your community. 
Over 20 Projects Available for Leasing
Detailed information about selected projects is listed below. For information on all our available projects, contact us via our online contact form.
Nikolai Rimsky-Korsakov: Scheherazade
Experience all the colors of Rimsky-Korsakov's famed Scheherazade. Journey through the tale of One Thousand and One Nights while simultaneously exploring the life and thoughts of Nicolai Rimsky-Korsakov. Delve deeper into the composer's life, the music of his time, and learn the intricacies of his orchestration, rhythmic harmony, and his colorful melodies.
Ludwig van Beethoven: Symphony No. 5

Journey through the life of Beethoven and discover what is behind his most famous symphonic work. In this carefully crafted presentation, Creative Director Gerard McBurney takes the audience on an asynchronous journey through time and history. A unique narrative weaves elements of the composers personal life to well-known thematic content found throughout this masterpiece.
Hector Berlioz: Symphonie fantastique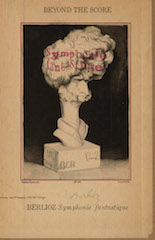 The epic Symphonie fantastique utilizes one of the largest orchestras of its time. The music tells the story of an artist's self-destructive passion for a beautiful woman, describing his obsession and dreams, tantrums, moments of tenderness, and visions of suicide, murder, ecstasy and despair. This Beyond the Score presentation takes an in-depth journey into the heart of Berlioz' life, his struggles, and his passions, which set the framework for this remarkable work. Theatrics of narration, singing, and dance are paired with refined imagery and illumination, setting the background for this emotional story and events surrounding this revolutionary composition.
Antonín Dvořák: Symphony No. 9: What World?
Welcome to the New World! This program explores all the colors of Antonín Dvořák's famous New World Symphony, one of the most popular orchestral works ever written. In this symphony, the idea of "echoes of nations" becomes very complex. For the composer and his fellow Czechs, the piece expresses longing for their homeland. For Americans, it represents the first great symphony written about their country, resonating with songs and spirituals from all different walks of life. Originally intended to be an opera inspired by Longfellow's epic poem "The Song of Hiawatha," Dvořák's Symphony No. 9 weaves together elements of several cultures to produce a rainbow of music: a vision of many colors and identities.
Edward Elgar: Enigma Variations: What Secret?
One evening, the great English composer Edward Elgar sat down at his piano to improvise. 'That's a good tune' said his wife Alice, 'what is it?' 'Nothing yet', replied Elgar, 'but something might be made of it'. Elgar then continued to improvise, as he imagined what his friends would do with the tune. What resulted was his much-loved Enigma Variations, depicting "friends pictured within," and tagging their initials and nicknames to each of the variations. The affectionate and vivid series of variations was to change their lives. This Beyond the Score® performance delves into those special personalities that are the basis for this most famous and heart-warming musical masterpiece.
Ives: Symphony No. 2: The Things Our Fathers Loved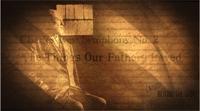 Charles Ives' Second Symphony is one of his most well-known works for the concert hall. Ives creates soundcapes in his music that some describe as unorthodox and mischevious; yet, his music contains many quotes and themes found in American vernacular song. The Things Our Fathers Loved is a historic snapshot into these influences that were the basis of Ives' musical output. Following this presentation, your audiences will understand why this music is so progressive for its time, and how influences throughout Ives' life shaped his compositional process.
Felix Mendelssohn: Symphony No. 4: Why Italy?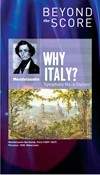 In 1830, the young, 21-year-old composer Felix Mendelssohn travelled to Italy, visiting the historic cities of Venice, Naples and Rome, among others. Three years later, Mendelssohn's journey to Italy was set to music in this buoyant symphonic work, later to be known as his Italian Symphony. While most of Mendelssohn's contemporaries ceased to write symphonies following the death of Beethoven, Mendelssohn set out to discover his own compositional voice within this traditional form. Incorporating the composer's own letters and writings, this program presents the historical context behind this symphonic masterpiece. Actors, multimedia content, and live orchestral musical examples demonstrate Mendelssohn's compositional approach toward depicting his enchantment with the Italian countryside.
Wolfgang Amadeus Mozart: Piano Concerto No. 27, K. 595: Elusive Simplicity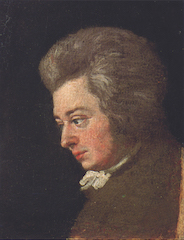 Beneath the simplicity of Mozart's final piano concerto lies one of the most subtle and perfect architectural structures in music. Composed less than a year before Mozart's untimely death, this concerto evokes a variety of intensely personal and painful experiences. By turns mysterious, luminous and tragic, this kaleidoscope of sound is magically held together by a blend of elegance and poignancy.
Mussorgsky: Pictures from an Exhibition: Pictures of What?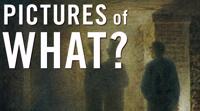 Pictures of What? examines Ravel's famous orchestration of Mussorgsky's mighty piano sequence, Pictures from an Exhibition. Illustrating the relationship between Mussorgsky and his friend Victor Hartmann, this presentation describes in fascinating detail how Ravel orchestrated Mussorgsky's vivid piano score. The combination of lively narration and succinct musical examples make this project one of the most engaging productions that your audience will experience.
Sergei Prokofiev: Symphony No. 5: Pure Propaganda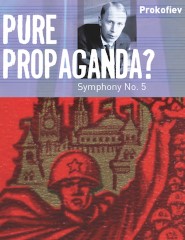 In a period when Russia and its people were still allies in the victory over fascism, the Symphony No. 5 was a musical celebration to the end of World War II. This work, often called "heroic" or "joyous, was described by Prokofiev himself as a "hymn to free and happy Man, ...to his mighty powers, ...to his pure and noble spirit." Through storytelling and musical excerpts, this presentation explores how Prokofiev's experiences in America and his return to his homeland after the war instilled in him the belief that music should be directed always toward the heroic, the beautiful and the strong.
Sergei Rachmaninov: The Isle of the Dead: Rite of Passage?
Arnold Böcklin's 1880's painting "The Isle of the Dead" captivated Sergei Rachmaninov. What mysteries hide within its shadows? Will the lonely traveler find comfort—or something else? Rachmaninov's most famous tone poem, inspired by Böcklin's painting, takes the listener on this journey.
This presentation explores Sergei Rachmaninov's most famous tone poem, based on a popular painting by symbolist Swiss artist Arnold Böcklin. The "Dies irae" (Day of Wrath) Gregorian chant from the Mass for the dead is prominent on this ominous and spellbinding journey to the mysterious isle. At first dark and mysterious, Racmaninov infuses the music with urgency and joy, seemingly negating the feelings of mortality first evoked by the painting. Stunning visuals, live musical examples, and actors set the stage for this interactive presentation that explores the hidden meaning and connections that lie beneath the surface of this masterpiece.
Dimitri Shostakovich: Symphony No. 4: Is Music Dangerous?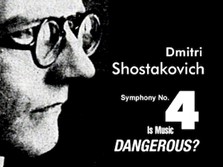 At the Russian Revolution, in 1917,the composer Shostakovich was eleven years old. Russia, his country, the largest in the world, was in a time-warp. The majority of the population were illiterate peasants¬ working – and often starving – on the land. Modern industry existed only in a few cities, like Moscow and St. Petersburg. Just a few years later, when Joseph Stalin became leader of what was now the Soviet Union, he [Stalin] set himself the almost inconceivable task of dragging this vast continent into the 20th century
Through the use of on-screen images,video and the theatrics of a narrator and actor, this presentation journeys through the complex historical setting that gave rise to this masterpiece.
"I think, in many ways,the Fourth is better than the symphonies that came after" - Dmitri Shostakovich
Pyotr Ilyich Tchaikovsky: Symphony No. 4: Pure Melodrama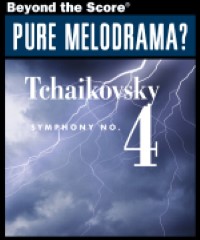 The most shattering personal crisis of Tchaikovsky's life—his ill-conceived marriage to a young student in 1877—coincided with one of the greatest periods of his composing career. Over a mere two years, he poured out a stream of masterpieces, culminating in his Fourth Symphony, a 19th-century Russian music drama to rival the great literary dramas of Pushkin and Tolstoy. In an eruption of purely orchestral sound, Tchaikovsky makes instruments speak with the theatrical vividness of characters in a play or a novel. The result is a flawless work, and at the same time a portrait of a society in ferment and the loneliness of individuals struggling to comprehend historical events that swirl around them. The young Russian knew he had achieved something extraordinary, calling his symphony "better than anything I've done so far."
Other available projects
Contact us for more information on these additional projects that are also available for licensing:
Bartok: The Miraculous Mandarin
Brahms: Symphony No. 3
Debussy: La Mer
Haydn: Mr. Haydn Goes to London! London Symphonies
Holst: The Planets
Mahler: Symphony No. 4
Ravel: A Portrait
Schoenberg: Pierrot lunaire
Sibelius: Symphony No. 5
Strauss: Ein Heldenleben
Stravinsky: The Rite of Spring
Vivaldi: The Four Seasons
Wagner: The Tristan Effect