African American Network
The CSO African American Network invites you to its 2023/24 Season, celebrating Black composers, conductors and performers across genres including classical, jazz, new music and gospel. This season, the African American Network hosts celebrations, artist meet-and-greets and networking events. 
---
Montgomery and the Blacknificent 7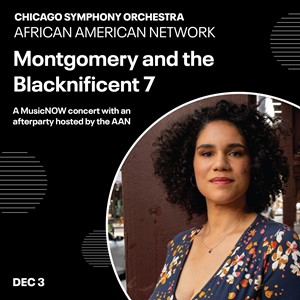 Sunday, December 3
3:00 "The Modern Artist Collective" Panel
         Presented by Chicago Humanities and hosted by LaRob K. Rafael
4:30 Montgomery and the Blacknificent 7
6:00 Afterparty
Savor the bold and unexpected. Join AAN members for a preconcert panel discussion followed by the first MusicNOW concert of the 2023/24 Season. The concert, curated by CSO Mead Composer-in-Residence Jessie Montgomery, illuminates works by a dynamic collective of Black composers, the Blacknificent 7. Following the concert, enjoy a casual afterparty and meet-and-greet with the artists hosted by the AAN.
Please note: this concert program includes content intended for mature audiences.
Specially priced AAN tickets start at $25 (concert + events) with promo code AANEVENTS.
Your pricing will be adjusted after you have added your seats to the order. AAN (concert + events) tickets are $25, with Box seating available for $35.
Order online or call Patron Services at 312-294-3000. Full season AAN packages are also available (see below). Your concert ticket is your RSVP to the reception and is required for admittance.
---
Membership and Information
Established in 2016, the African American Network (AAN) has grown to include more than 5,000 members and presents an annual series of curated and hosted programs to create connections and conversation through music.
The mission of the CSOA's African American Network aims to engage Chicago's culturally rich African American community through the sharing and exchanging of unforgettable musical experiences while building relationships for generations to come.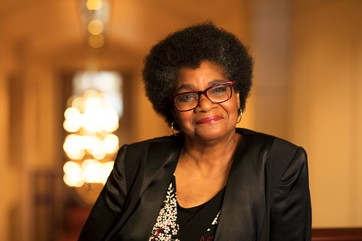 The AAN seeks to serve and encourage individuals, families, educators, students, musicians, composers and businesses to discover and experience the timeless beauty of music.
To learn more how you can be involved, contact the African American Network or call 312-294-3000.
Right: Sheila Jones, founder of the AAN
Become a member of the African American Network
It's free to join the AAN and receive performance information, promotions, updates and so much more!
Upcoming Events
Samara Joy
Friday, October 27
The African American Network invites you to celebrate in style at their season launch event – Joy After Dark: The AAN Afterparty. Immediately following the highly anticipated Samara Joy concert, enjoy cool drinks and velvety desserts in a venue befitting Samara Joy herself: the Grainger Ballroom, a classic venue with a contemporary twist.
---
Montgomery and the Blacknificent 7
Sunday, December 3
Join AAN members for a pre-concert panel discussion presented by Chicago Humanities with members of the Blacknificent 7, a cohort of cutting-edge contemporary composers, and moderator LaRob K. Rafael. Following the CSO MusicNOW concert, AAN will host a meet-and-greet with the composers and artists.
Please note that this concert includes content intended for mature audiences.
---
Christian McBride's The Movement Revisited
Friday, February 2
Eight-time Grammy Award-winning bassist, bandleader and host of NPR's Jazz Night in America Christian McBride brings his monumental musical tribute inspired by the words of Rosa Parks, Malcolm X, Martin Luther King Jr., Muhammad Ali and President Barack Obama. "When the suite soars, it follows the bandleader's strengths, known for his ebullient precision – his joy in the details – and for savoring the nectar inside swing rhythm" (Downbeat).
---
Sheku Kanneh-Mason Plays Elgar
Thursday, February 15
Sheku Kanneh-Mason, hailed by The New Yorker as "a cellist of blazing sensitivity," makes his debut with the CSO performing Elgar's rhapsodic Cello Concerto.
---
Gateways Festival Orchestra Featuring Take 6
Friday, April 19
Comprised of the finest classical musicians in the country, the all-Black Gateways Festival Orchestra concludes its week-long Chicago residency with a Symphony Center concert featuring Take 6, the award-winning a cappella group Quincy Jones called the "baddest vocal cats on the planet." The program highlights works by African American composers including Chicago-native Margaret Bonds, whose Montgomery Variations was inspired by Dr. Martin Luther King Jr.
---
CSO x Jazz at Lincoln Center Orchestra with Wynton Marsalis
Thursday, April 25
Join the afterparty with the CSO Latino Alliance to celebrate the iconic collaboration between the CSO and the Jazz at Lincoln Center Orchestra, led by the legendary Wynton Marsalis and six-time Grammy Award-winning conductor Giancarlo Guerrero.
Follow the AAN on Facebook!
Contact the African American Network
African American Network members receive specially priced tickets for $40 or less to many concerts throughout the season!
Step 1: Visit the calendar listing for performances that have the African American Network ticket offer available. (Promo code "AAN" will automatically be activated. African American Network tickets usually become available 1-4 weeks ahead of the concert date with newly eligible concerts typically added on Thursday afternoons.)
Step 2: Choose your preferred concert. All seats available with this special offer will display on the seat map. Select your seats and add to your order.
Step 3: Proceed through the checkout process. Tickets will be delivered by email, unless you select another delivery method. Additional fees may apply for other delivery methods.
Step 4: Attend the concert!
African American Network Board Members
Lisa Adams
Raymond Adams
Breyon Brown
Joyce Carter
Sena Dawes
Susan Carlotta Ellis
Barry Elmore
Wilfred Farquharson
Katherine Hicks
Darryl Holliday
Rosalind Jackson
Cornelius Johnson
Daryl Layson
Abby Mallett
Leah McGregory
Jessie Montgomery
Marian Perkins-Phillips
Lenese Reynolds
Rosemarie Rogers
Howard and Darlene Sandifer
Jaime Sharp
Javante Smith
Tracy Stanciel
Ginger Stanciel
Lauren Stanciel
Ted Tabe
Jordan Thomas
Adam Vida
Barbara Wright-Pryor
AAN Artistic Consultant: Renée Baker
AAN Newsfeed
AAN Event Photos