African American Network
"I am very happy for the founding of the Chicago Symphony Orchestra's African American Network. I look forward to its ongoing development and to seeing its members often at CSO concerts at Symphony Center. I highly welcome you, and you have my very best wishes and support."

Riccardo Muti, Zell Music Director
Join us for our next event!
Intermission meet-up and postconcert Q&A with Thomas Wilkins, Stephen Williamson and Renee Baker
Membership and Information
Established in 2016, the African American Network (AAN) has grown to include more than 5,000 members and presents an annual series of curated and hosted programs to create connections and conversation through music.
The mission of the CSOA's African American Network aims to engage Chicago's culturally rich African American community through the sharing and exchanging of unforgettable musical experiences while building relationships for generations to come.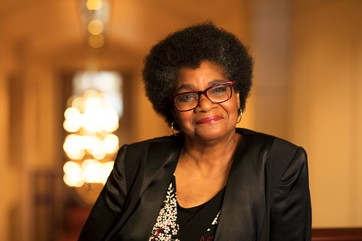 The AAN seeks to serve and encourage individuals, families, educators, students, musicians, composers and businesses to discover and experience the timeless beauty of music.
To learn more how you can be involved, contact the African American Network or call 312-294-3000.
Right: Sheila Jones, founder of the AAN
Become a member of the African American Network
It's free to join the AAN and receive performance information, promotions, updates and so much more!
Follow the AAN on Facebook!
Contact the African American Network
Order AAN tickets for $40 or less
Step 1: Visit the calendar listing for performances that have the AAN ticket offer available. (AAN tickets usually become available 1-4 weeks ahead of the concert date with newly eligible concerts typically added on Thursday afternoons.)
Step 2: Choose your preferred concert. All seats available with this special offer will display on the seat map. Select your seats and add to your order.
Step 3: Proceed through the checkout process. Tickets will be delivered by email, unless you select another delivery method. Additional fees may apply for other delivery methods.
Step 4: Attend the concert!
AAN Event Photos