David Lee Csicsko is a designer and artist whose work can be seen all around the city of Chicago.
Ann Latinovich
The Chicago Symphony Orchestra's commercial recording legacy began on May 1, 1916, when second music director Frederick Stock led the Wedding March from Mendelssohn's A Midsummer Night's Dream for the Columbia Graphophone Company. The Orchestra has since amassed an extraordinary, award-winning discography on a number of labels — including Angel, CBS, Deutsche Grammophon, Erato, London/Decca, RCA, Sony, Teldec, Victor and others — continuing with releases on the in-house label CSO Resound under tenth music director Riccardo Muti. For My Favorite CSO, we asked members of the Chicago Symphony family for their favorite recordings (and a few honorable mentions) from the Orchestra's discography.
With its bold and singular use of color, pattern and texture, the work of Chicago artist David Lee Csicsko is instantly recognizable. In 2012, he was invited by President Barack and First Lady Michelle Obama to create Christmas decorations for the White House, and he is the illustrator for Michael Tyler's The Skin You Live In, published by the Chicago Children's Museum. Csicsko designed the mosaics at the CTA's North Side Main Line Belmont station, the stained glass windows for the interfaith chapel at Ann & Robert H. Lurie Children's Hospital of Chicago and stained glass windows and mosaics for several of Chicago's African American Catholic churches. He has designed numerous shopping bags for Mariano's Fresh Market and Unabridged Books, and for 10 years, he was the resident designer for the International Music Foundation's Dame Myra Hess concert series. 
BRAHMS Piano Concerto No. 1 in D Minor, Op. 15
Recorded in Orchestra Hall in 1954 for RCA
Fritz Reiner conductor
Artur Rubinstein piano
"At the start of a new year, hello 2022! And living through the pandemic has been a great opportunity to think back to my favorite CSO recordings over the years.
"When the wonderful Symphony Store was on Michigan Avenue, I bought many of Fritz Reiner's recordings. In the trunk of my car, I had a CD player that was wired into the stereo system. For years, I just listened to those recordings while running errands and on long trips — so many wonderful journeys with CSO recordings. I often traveled to New Mexico to work with the mosaic team at Erin Adams Studio in Albuquerque (the mosaics for the Belmont "L" station were all made there). When I made these long trips with the CSO recordings in the rental car, they created the soundtrack for my excursions. As a treat, I would make a trip into Santa Fe, and Brahms' First Piano Concerto with Artur Rubinstein and Fritz Reiner would be my favorite recording to play. Even if I sometimes arrived at my destination early, I would stay in the car and finish listening to the recording."
MAHLER Das Lied von der Erde
Recorded in Orchestra Hall in 1959 for RCA
Fritz Reiner conductor
Maureen Forrester contralto
Richard Lewis tenor
"And nothing beats Mahler's Das Lied von der Erde — with Maureen Forrester and Richard Lewis, also under Reiner's baton — as the sun sets over the New Mexico mountain desert. There were many wonderful used CD and record stores that I would find on those journeys, and it was fun to look for classic CSO recordings. But now times have changed, and I have given away all of my CDs and old records, and I no longer have a turntable or a CD player. So I count on WFMT radio for the pleasure of listening to recordings by the CSO. But in my mind, I can still see the covers and remember the exciting sounds.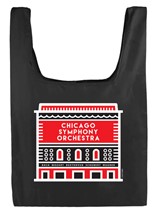 "A few years ago, the team at the Chicago Symphony Orchestra Association asked me to design a tote bag, and I created a bold rendering of Orchestra Hall Symphony Center. The design is a distinct graphic of the building in red, black and white, and my design makes me think of the old recordings. I've recently been back in the concert hall and have loved every second of music. The sound of the Chicago Symphony Orchestra in its home is a wonder of the world! Keep making music . . . we all need it.
"A few more favorites, below. Let the music, old and new, play on!"
MAHLER Symphony No. 6 in A Minor
Recorded in Orchestra Hall in 2007 for CSO Resound
Bernard Haitink conductor
BACH/Stock Prelude and Fugue in E–flat Major, BWV 552 (Saint Anne)
Recorded in Orchestra Hall in 1941 for RCA
Frederick Stock conductor
ALBÉNIZ Fête-dieu à Séville from Ibéria, Book 1
Recorded in Orchestra Hall in 1958 for RCA
Fritz Reiner conductor
HINDEMITH Concerto for Orchestra
Recorded in Orchestra Hall in 1991 for Chandos
Neeme Järvi conductor
MFC-040