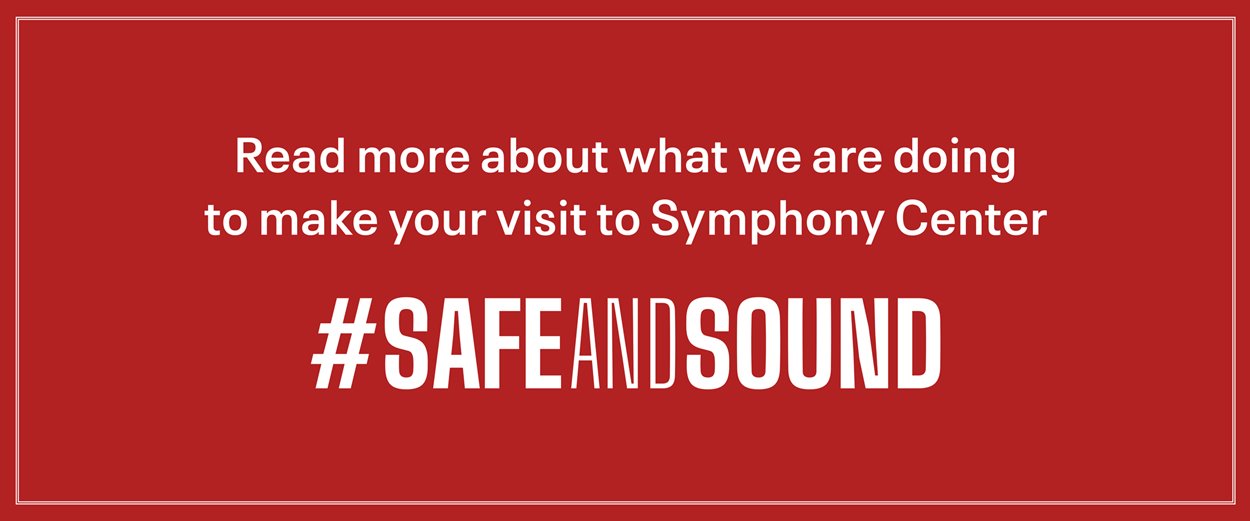 Safe and Sound
The Chicago Symphony Orchestra Association is committed to creating a comfortable, enjoyable and safe environment for its musicians, patrons and staff.
The Chicago Symphony Orchestra Association has joined a growing coalition of performing arts organizations across the Chicago area in adopting safety protocols to ensure your visit to Symphony Center is safe and sound. These protocols will be reviewed regularly to follow the latest public health recommendations.
Visit this page before you attend your next concert and contact Patron Services if you have any questions. We look forward to welcoming you back to Symphony Center soon!
Your Safety • Tickets and Seating • Concert Experience • Explore Concerts
Updated 11/19/21
Your Safety
Proof of Vaccination or Negative Test

Patrons will be required to show proof of COVID-19 vaccination or a negative test upon arrival.

Early arrival is recommended and patrons should have this information ready to present as they enter Symphony Center, as it will be checked before concert tickets are scanned.

Patrons are encouraged to consider using the free My Bindle app on their mobile devices to help expedite the entry process. An express entrance line will be available for patrons using the Bindle app. To learn more, go to joinbindle.com/. A physical vaccination card or a photo of a vaccination card, along with a valid photo ID, also may be presented for entry.

Alternatively, proof of a negative PCR test within 72 hours of performance date or antigen test within six hours of performance must be shown upon arrival. Testing locations (including free and nearby options) are listed on the Chicago Department of Public Health or Illinois Department of Public Health websites.

Anyone currently unable to get a vaccination is required to present proof of a negative test. For children tested regularly through school, a copy of their most recent school test result will be accepted as proof. Children currently going through the vaccination process will be permitted with one vaccine dose administered at least 14 days prior to the performance. Symphony Center accepts COVID-19 vaccines approved by the U.S. Food and Drug Administration (FDA) and the World Health Organization (WHO).

Face Mask Requirement

Patrons are required to wear face coverings at all times and in all areas of Symphony Center, including while seated during the performance. Face coverings should be worn properly, covering the nose and mouth, and meet Centers for Disease Control and Prevention (CDC) standards. Neck gaiters and bandanas are not permitted. Patrons arriving without appropriate face coverings will be provided a disposable face mask.

Enhanced Cleaning Procedures

High-touch areas, including countertops, door handles and elevators, are cleaned and sanitized regularly. In addition, seating areas and corresponding lobbies are disinfected with CDC-approved aerosol sprays after each performance.

Hand Sanitizer Stations

Hand sanitizer stations are available throughout Symphony Center and can be found near all entrances to each seating area. Per CDC guidelines, people should wash hands often with soap and water for at least 20 seconds.

Air Ventilation (HVAC) System

Symphony Center meets all CDC-recommended guidelines on fresh air intake and air circulation, with approximately 5-6 air changes per hour. Orchestra Hall's HVAC system uses a double-filter system: a MERV 8 pre-filter to remove large particles from the air, followed by a MERV 14a or 15 filter, the same used in hospitals, to remove finer particles.

Contact Tracing

You are encouraged to provide the contact information for all the members of your party when you place your order. This information will be retained by the CSOA for contact tracing purposes. If there is any indication you may have been exposed to COVID-19 while at Symphony Center, you will be informed as soon as possible. If you would like to transfer a ticket to another person, please contact Patron Services. If you develop symptoms of COVID-19 or test positive for COVID-19 within 48 hours of attending a concert at Symphony Center, please call 312-294-3000.
Tickets and Seating
New eTicket Features and Self-Service Ticket Scanning

eTickets are available in your account section on cso.org beginning two hours before the performance. You will self-scan your tickets at a stand after you have proceeded through the vaccination and negative test checkpoint. Ushers will be nearby and ready to assist you.

Flexible Exchanges and Returns

Patrons who are not feeling well, are exhibiting any COVID-19 symptoms or have had or been exposed to COVID-19 in the past 14 days, should not come to Symphony Center. If you are unable to attend a performance, you are encouraged to contact us to discuss flexible exchange and refund options. We are happy to accommodate you as best we can. Should any program changes or cancellations be deemed necessary, you will have many options including a full refund and the ability to store funds on your account to use on future performances.

We're Here to Help

Contact us with any questions or concerns—we want to make your concert experience as enjoyable as possible. You can speak directly with Patron Services by calling 312-294-3000, chatting with us online or sending us an email. The walk-up Box Office has reopened and is always open before the performance to assist with any ticketing needs. Cashless transactions are encouraged at the Box Office.
Concert Experience
Program Books

Program books will be available at the concert and digital program books are also available at cso.org/program about one week before the concert.

Concessions, Dining and Drinking Fountains

Onsite dining options, concessions and drinking fountains are not available. Check out our new list of Restaurant Partners for dining options and special promotions near Symphony Center. Patrons are permitted to bring in to Orchestra Hall their own water bottles.

Symphony Store

The Symphony Store has reopened! You can shop in-person before your next concert or online anytime at symphonystore.com.

Parking and Valet

The Grant Park South Garage is located at 325 South Michigan Avenue and has direct access to Symphony Center. As Symphony Center's preferred parking partner, the garage offers special rates for patrons. Valet parking service is available for $25, for most Chicago Symphony Orchestra and Symphony Center Presents performances. Learn more about parking and transit options.
CSOA and Symphony Center ticketing and attendance policies are subject to change and are subject to city and state public health guidelines.
Ticket holders assume all risks and dangers relating to any event at Symphony Center. By visiting Symphony Center, you acknowledge and voluntarily agree to assume all risks related to exposure to COVID-19 and other communicable diseases, and all other terms and conditions.
Programs and artists subject to change. The Chicago Symphony Orchestra Association (CSOA) reserves the right to record performances, including the audience, for future broadcast or promotion. Your attendance at CSOA events shall be deemed consent and permission to use your image, as captured in photograph or on video, in connection with the promotion and marketing of the CSOA and its related events.